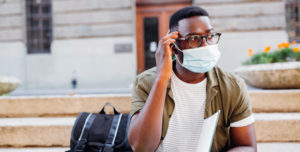 The record-high numbers of new coronavirus infections across the country are a solemn reminder that the pandemic is not going away soon.
You might feel fatigue setting in from how much life has changed over the last several months. But this is an important time to remain disciplined and continue to follow public health recommendations.
Many of you are already considering how the pandemic will affect your holiday plans, and whether you'll be able to gather with loved ones safely. These are difficult decisions to make.
If you have a college student who's been away, you might be torn about whether they should come home for break. If students do come home, they should do so carefully to avoid bringing COVID-19 with them. This is especially true if your student is coming home to a household with elderly family members or others with chronic medical conditions.
While healthy young adults generally aren't at high risk for getting extremely sick with COVID-19, studies show they may be key spreaders of the disease because they often don't develop symptoms or realize when they're infected.
Cleveland Clinic leaders collaborated with the state of Ohio to develop safety tips for college students and their families. When returning home, college students should:
Limit close contact with others beginning a week or two prior to their travels home.
Watch for any potential COVID-19 symptoms such as fever, cough, or body aches.
Get tested a few days before traveling home, if their college offers testing. If the test comes back positive, your student should self-isolate and follow additional recommendations.
Wear a face mask when they come within 6 feet of others while traveling.
Keep their distance from others whenever possible.
Wash their hands or use hand sanitizer after touching high-contact surfaces such as doorknobs.
If possible, sleep in a separate bedroom and use a separate bathroom from others at home.
Avoid sharing eating utensils, dishes, or glasses with others unless they've been washed.
Wear a mask around anyone who's elderly or immune-compromised at home.
Continue to take the recommended precautions in public.
By making choices to protect ourselves and each other, we can keep this situation from getting worse. Please stay safe, healthy, and cautious.
Tomislav Mihaljevic, MD
CEO and President